SCREW LOOSENING AS A COMPLICATION OF SELF-TAPPING IMF SCREWS USED FOR INTERMAXILLARY FIXATION IN MANDIBULAR FRACTURES
Rubbab Zahra

BDS, FCPS, Head of Department of Oral Medicine, Bakhtawar Ameen Dental College, Multan

Syed Gulzar Ali Bukhari

BDS, FCPS, Commandant/Professor Oral and Maxillofacial Surgery, 20 Military Dental Centre, Multan

Muhammad Umar Qayyum

BDS, FCPS, Supervisor/Senior Registrar 20 Military Dental Centre, Multan

Muhammad Adil Asim

BDS, FCPS, Assistant Professorr Rawal Institute of Dentistry, Islamabad

Muhammad Umair

BDS, MCPS, Head of Department Oral Medicine, Foundation Dental College, Rawalpindi

Sehrish Liaqat

BDS, MCPS, Senior Registrar, Oral Medicine, Nishter Institute of Dentistry, Multan
Keywords:
IMF screws, Mandibular fractures, Screw loosening, Maxillomandibular fixation
Abstract
Aim of the study was to find out the frequency of screw loosening in self tapping IMF screws during the treatment of mandibular fractures. It was descriptive case series.
It was carried out of oral and maxillofacial surgery, Armed Forces Institute Of Dentistry, Rawalpindi, from Oct 2012 to Jun 2013.
Patients were treated for IMF with 4 screws and were advised follow up for 4 weeks . At each follow up visit screw loosening was assessed, and the observations were recorded along with age, gender, frequency and percentage.
A total of 80 patients were selected and 320 self tapping IMF screws were used to achieve intermaxillary (IMF) fixation. Maximum number of screw loosening in any one case was one. Male patients constituted 60 % while female were 40%. The mean age was 31.20 years which ranged from 18 to 47 years. Screw loosening was observed in 33.8 % patients. The number of loose screws were related to the fracture pattern and distribution. Total number of IMF screws used were 320 with a maximum of 4 screws in each patient out of which 8.73 % screws became loose.
It was concluded that IMF screws can be used as an alternative method for obtaining quick and safe MMF in mandibular fracture with simple and undisplaced fracture patterns.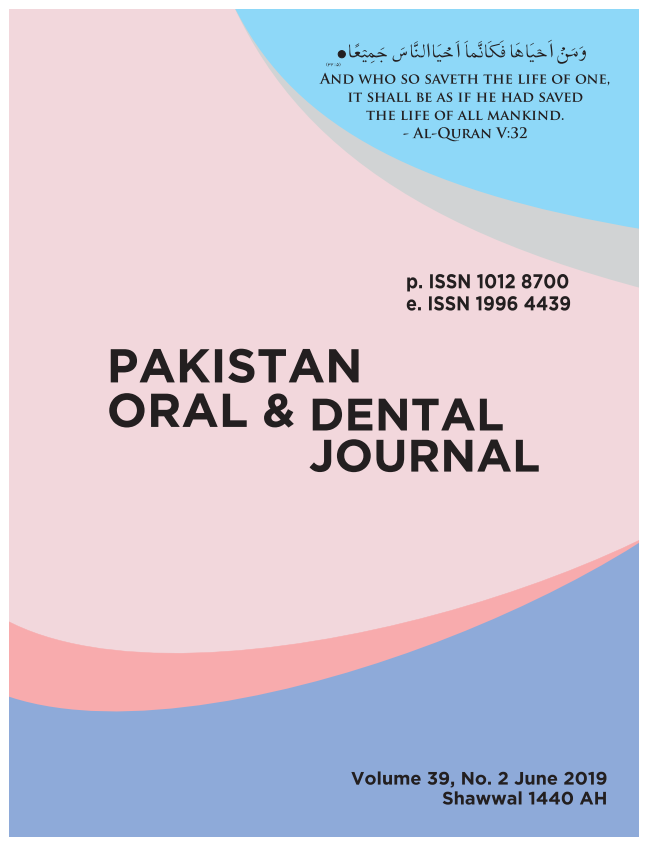 How to Cite
Zahra, R., Bukhari, S. G. A., Qayyum, M. U., Asim, M. A., Umair, M., & Liaqat, S. (2019). SCREW LOOSENING AS A COMPLICATION OF SELF-TAPPING IMF SCREWS USED FOR INTERMAXILLARY FIXATION IN MANDIBULAR FRACTURES. Pakistan Oral & Dental Journal, 39(2), 144-148. Retrieved from https://www.podj.com.pk/index.php/podj/article/view/377
Section
Oral & Maxillofacial Surgery