INCIDENCE OF DRY SOCKET AFTER REMOVAL OF IMPACTED MANDIBULAR THIRD MOLAR AND ITS RELATION TO SURGICAL DIFFICULTY
Tariq Sardar

BDS, FCPS, Senior Registrar, Department of Oral and Maxillofacial Surgery, KMU Institute of Dental Sciences, Kohat.

Naveed Sadiq

BDS, MPH, Ph D, Assistant Professor, Institute of Public Health & Social Sciences, Khyber Medical University, Peshawar

Muhammad Ishfaq

BDS, FCPS, Assistant Professor, Department of Oral and Maxillofacial Surgery, Peshawar, Dental College

Gulrukh Sheikh

BDS, Clinical Attaché at Department of Periodontology, Khyber College of Dentistry, Peshawar.
Keywords:
incidence, dry socket, impacted mandibular third molar, surgical difficulty
Abstract
Removal of impacted molar teeth is a usual practice in dental surgery and dry socket is a known complication of this procedure. The objective of this cohort cross-sectional study was to assess the association of surgical difficulty of impacted mandibular third molar with the post extraction incidence of dry socket. A total of 174 patients who had their impacted mandibular third molar removed at the Department of Oral and Maxillofacial Surgery, KMU Institute of Dental Sciences from January 2018 to October 2018, were included in this study. The difficulty of extraction was assessed using Pederson difficulty index preoperatively, and surgical technique employed and duration post operatively. Proportions were obtained and chi square test was applied for checking on associations. Out of 174 patients 36 (20.7%) returned with dry socket. Moderately difficult cases accounted for 58.3%, those requiring osteotomy with tooth/root sectioning accounted for 69.4% and extractions performed in more than 30 mins accounted for 61.1% of all cases of dry sockets. Pederson difficulty index, surgical technique employed and duration of surgery were significantly associated with dry socket (p<0.05) while age and gender had no statistically significant association with dry socket incidence. Higher the level of difficulty in terms of case presentation and/or surgical technique, higher the chances of dry socket.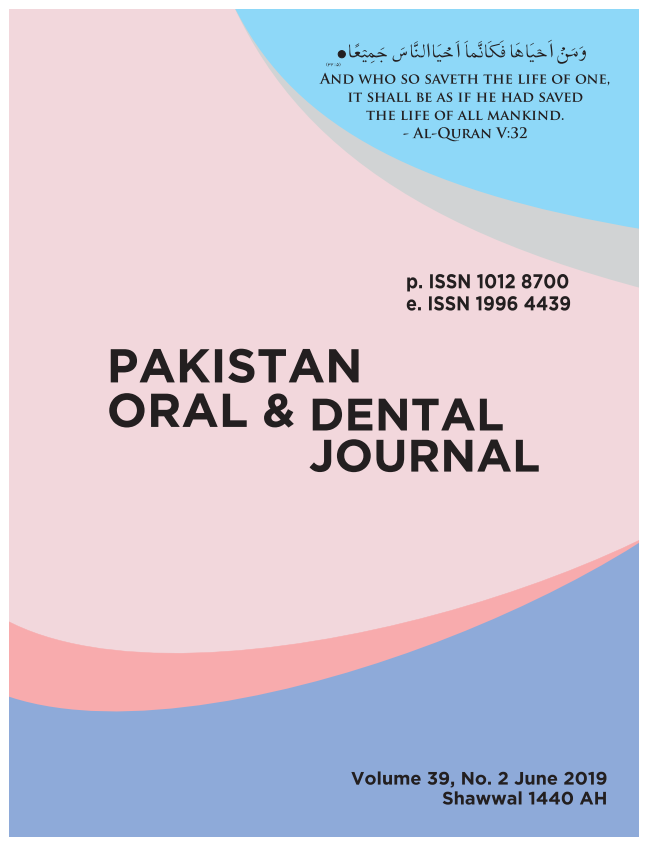 How to Cite
Sardar, T., Sadiq, N., Ishfaq, M., & Sheikh, G. (2019). INCIDENCE OF DRY SOCKET AFTER REMOVAL OF IMPACTED MANDIBULAR THIRD MOLAR AND ITS RELATION TO SURGICAL DIFFICULTY. Pakistan Oral & Dental Journal, 39(2), 159-163. Retrieved from https://www.podj.com.pk/index.php/podj/article/view/387
Section
Oral & Maxillofacial Surgery