STRESS AMONG DENTAL UNDERGRADUATES: A CROSS-SECTIONAL STUDY
Anum Mahmood

BDS, Lecturer, Science of Dental Materials, Baqai Dental College, Baqai Medical University, Near Toll Plaza Karachi, House No: 24/2, Sheet 19, Model Colony, Karachi

Samreen Mazhar

BDS, MPH, Assistant Professor, Department of Community Dentistry, Baqai Dental College, Baqai Medical University, Near Toll Plaza Karachi

Mahwish Bano

BDS, MPH, Assistant Professor, Department of Community Dentistry, Baqai Medical University, Near Toll Plaza, Karachi

Iqra Ghaffar

BDS, FCPS, PGR, Department of Orthodontics, Nishtar Institute of Dentistry, Multan
Keywords:
Stress, academics, dental undergraduate
Abstract
Stress is an inevitable event in a students life. Students experience stress due to academic and cultural environment. Stress has a good or bad impact on students.
This study was conducted to determine the level of stress among dental undergraduates students of private and government dental college.
It was a cross sectional study and was conducted at Baqai Dental College, Karachi and Nishtar Institute of Dentistry, Multan from January 2018 to June 2018. Students of First to Final Professional Year of BDS from (Private Dental College) and First to Final Professional Year BDS from (Government Dental College) were included in this study. An informed written consent was taken from the participants. Dental Environmental Stress questionnaire was modified and was used in this study. Data were entered and analysed using SPSS 22 version.
Overloaded feeling due to vast and huge syllabus was found to be highly stressful factor among dental students (51.4%). Fear of failing showed 44% frequency level and was found to be the second highest stressor among dental students. Stress frequency was reported higher among private dental college students than the government dental college students.
There is a need for greater attention to improve the psychological wellbeing of students for the betterment of their life and academic career. Counselling and awareness programmes must be developed to decrease stress and to improve the quality of life of the future doctors in curricular and extra-curricular activities.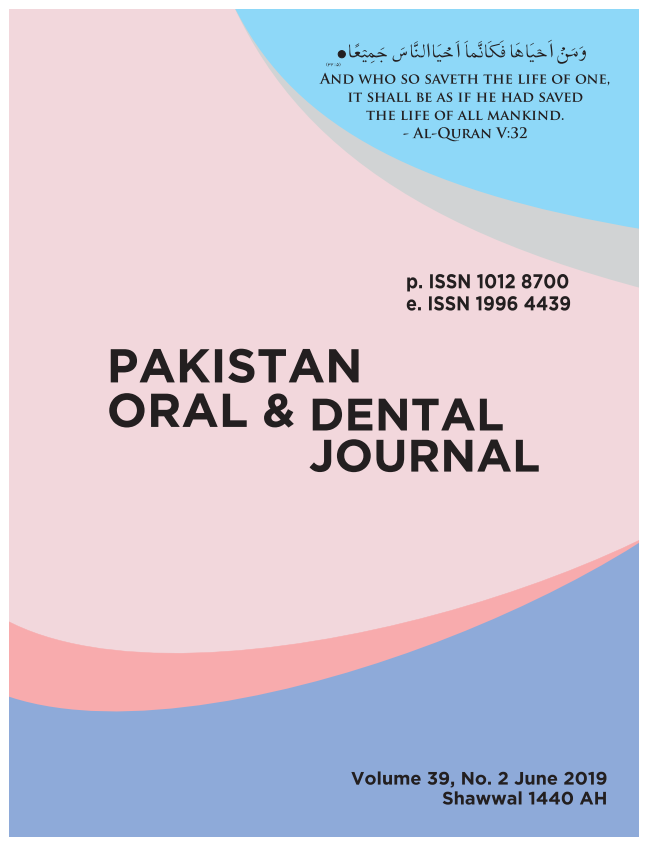 How to Cite
Mahmood, A., Mazhar, S., Bano, M., & Ghaffar, I. (2019). STRESS AMONG DENTAL UNDERGRADUATES: A CROSS-SECTIONAL STUDY. Pakistan Oral & Dental Journal, 39(2), 167-172. Retrieved from https://www.podj.com.pk/index.php/podj/article/view/391
Section
Community Dentistry