ASSOCIATION OF LATERAL EXCURSIVE CONTACTS SCHEMES WITH DEMOGRAPHIC CHARACTERISTICS AND STATIC OCCLUSAL RELATION
Nuzhat Ayub

Assistant Professor Prosthodontics, Peshawar Dental College

Muhammad Raza

Associate Professor Prosthodontics, Peshawar Dental College

Muhammad Sartaj Khan

Associate Professor Prosthodontics, Peshawar Dental College

Maryam Tahir

Junior Registrar Prosthodontics ,Peshawar Dental College
Keywords:
Occlusion, Canine guided, Group function
Abstract
Occlusion is an important determinant for proper mandibular movements during various functions of the Jaws.Aim of the study was to observe the frequency of the occlusal scheme mostly found in local population of Peshawar from March 2018 t0 September 2018. 110 participants were selected and examined following inclusion criteria. Occlusal bite paper/ articulating paper were used to assess the contacts of teeth during dynamic occlusal relationship. These were measured with stainless steel scale. Static occlusal relationship was checked during intraoral examination. Teeth contacts on Maximum intercuspation, protrusive and lateral excursion were observed.Chi- Square and ANOVA were applied. Results showed that group function is reported to be more prevalent (57.3 %), followed by canine guided (29.1 %), Combination (8.2 %) and unclassified (5.5 %) occlusal schemes. Group function was more prevalent in both male (55.6%) and female (44.4 %) participants. The Chi-Square estimate corroborated that the presence of occlusal Interferences are significantly associated (Chi- Square = 0.000) with type of occlusal schemes.
Group function was reported as highest among the participant. Overbite and overjet appeared to play insignificant role in the type of occlusal scheme.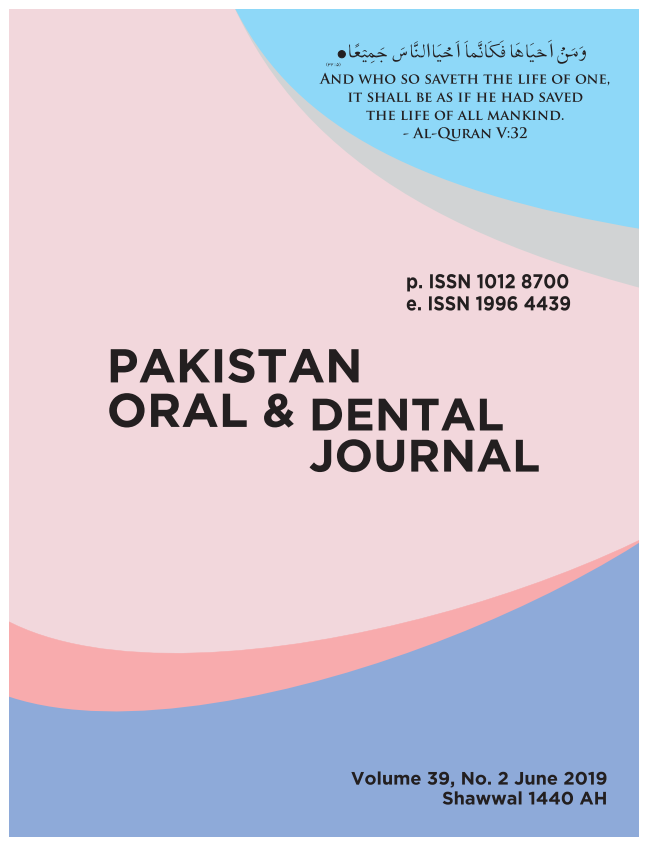 How to Cite
Ayub, N., Raza, M., Khan, M. S., & Tahir, M. (2019). ASSOCIATION OF LATERAL EXCURSIVE CONTACTS SCHEMES WITH DEMOGRAPHIC CHARACTERISTICS AND STATIC OCCLUSAL RELATION. Pakistan Oral & Dental Journal, 39(2), 222-226. Retrieved from https://www.podj.com.pk/index.php/podj/article/view/413