EDITORIAL
Ahmad Iqbal

Editor Pakistan Oral & Dental Journal
Abstract
Modern science does not take anything for granted. The beliefs of a scientist are tentative not final. They are not based on authority. An impression or a filling material is classified as good, not because it is recommended by a dental specialist but because of the findings seen as a result of a scientific study. Dentistry environment will change over the next 20 years. The future for dentistry will be in more non-invasive less mechanical/surgical repair, more care dependent on an indepth knowledge of bio-chemistry and biology; more sophisticated diagnosis and treatment planning alternatives, and more topical use of antibiotics and other chemicals to prevent and treat.
It is the responsibility of each dental surgeon to strive to learn up-to-date information to become an independent and well informed professional. That is what 'Pakistan Oral & Dental Journal' has always been trying to do for the last 38 years i.e, to provide latest information to the dental surgeons at their door step.
It is believed that only education can alter the situation but during the medical and dental education, the students are not taught a word about social medicine and his duties and obligations to the well being of his fellow citizens.
It is said that very few people adopt the values of services and responsibilites but it is these few who are the only people who can feel satisfied and happy at the end of their lives.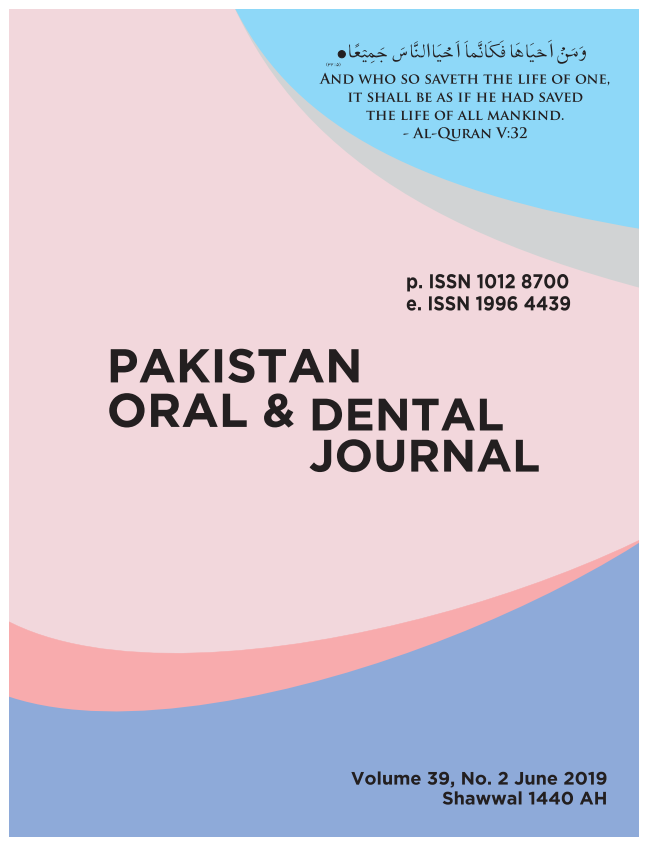 How to Cite
Iqbal, A. (2019). EDITORIAL. Pakistan Oral & Dental Journal, 39(2), 116. Retrieved from https://www.podj.com.pk/index.php/podj/article/view/415