EFFECT OF SUBMUCOSAL INJECTION OF DEXAMETHASONE ON POST-OPERATIVE SWELLING AND TRISMUS FOLLOWING IMPACTED MANDIBULAR THIRD MOLAR SURGERY
Bibi Khalida

Post Graduate Resident in Oral & Maxillofacial Surgery, Islamic International Dental College & Hospital, Islamabad

Mohsin Fazal

Assistant Professor Oral & Maxillofacial Surgery, Islamic International Dental College & Hospital, Islamabad

Sidra Tul Muntaha

Post Graduate Resident in Oral & Maxillofacial Surgery, Islamic International Dental College & Hospital, Islamabad

Kamran Khan

Associate Professor Oral & Maxillofacial Surgery, Islamic International Dental College & Hospital, Islamabad
Abstract
 The study was designed to determine the effectiveness of single pre-operative submucosal injection of dexamethasone in reducing post operative swelling and trismus after surgical removal of impacted mandibular molar when compared with control. This randomized control study was carried out at Islamic International Dental Hospital from September 2015 to April 2016 on 60 patients requiring the surgical removal of impacted mandibular third molar. All patients were divided randomly into two equal groups that is group A (Experimental) and group B (Control). Baseline and post operative data were recorded by measuring facial width, inter incisal distance of the upper and lower right central incisor. Data were analyzed through SPSS version 17. Patients age in group-A and group B at the time of surgery ranged from 17 to 44 years (29.677.6) and 17 to 41 years(27.876.43) respectively. There were 57% males and 43% females in group-A. Group-B had 70% males and 30% females. Experimental group showed a significant reduction in swelling (p < 0.001) and trismus (p < 0.001) when compared with control group on second postoperative day. It was concluded that pre operative submucosal injection of 4mg of dexamethasone was effective approach for controlling post operative swelling and trismus. Submucosal route is simple, painless, safe, non invasive and cost effective option for moderate cases. So it is recommended to bring this technique in practice which will put the positive impact on quality of life of patient.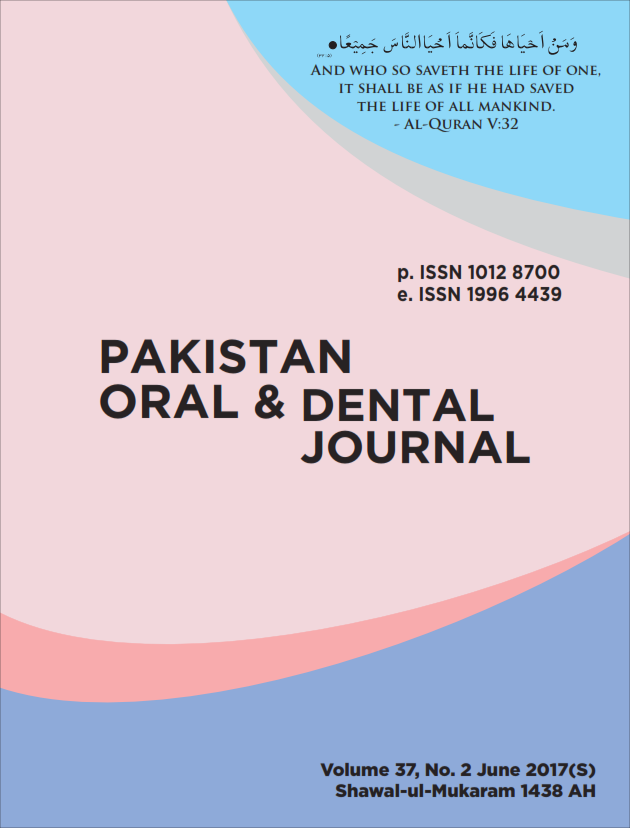 How to Cite
Khalida, B., Fazal, M., Muntaha, S. T., & Khan, K. (2017). EFFECT OF SUBMUCOSAL INJECTION OF DEXAMETHASONE ON POST-OPERATIVE SWELLING AND TRISMUS FOLLOWING IMPACTED MANDIBULAR THIRD MOLAR SURGERY. Pakistan Oral & Dental Journal, 37(2), 231-234. Retrieved from https://www.podj.com.pk/index.php/podj/article/view/84
Section
Oral & Maxillofacial Surgery
This work is licensed under a Creative Commons Attribution-NonCommercial 4.0 International License.